THIS IS THE DIGITAL DOWNLOAD. (c) 2021 Wild Records USA | Available for purchase on Wednesday, May 26th 2021. If you like your music fast, furious, intense, fresh and edgy...Wenzdaze's first release "Brainwashed" is for you. An album crammed with original material, think melodic punk.
Read more…
0:00/3:16

0:00/3:09

0:00/3:25

0:00/2:35

0:00/2:36

0:00/2:41

0:00/2:09

0:00/3:30

0:00/2:43

0:00/3:14

0:00/3:05

0:00/3:44

0:00/3:59

0:00/2:54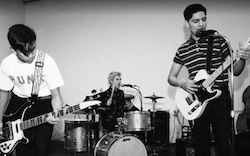 Left to right:
Hayden Kennedy 13 years young - Bass, Vocals  
Lucas Jordan 13 years young - Drums, Vocals  
Ruben Barajas 16 years young - Vocals, Lead Guitar
Wild Youth are a three piece punk infused band.  They're heavily influenced from the sounds of first wave punk and contemporary punk influenced bands.  The band feature their interpretation of punk songs along with their original compositions.  
What do they sound like?  Think Sex Pistols, The Stooges, Joy Division, Black Keys, The Drums, White Stripes, The Cure, etc.  
Wild Youth - the sound of today and tomorrow.